Mike
White
keys
Famicos
Glenville
celebration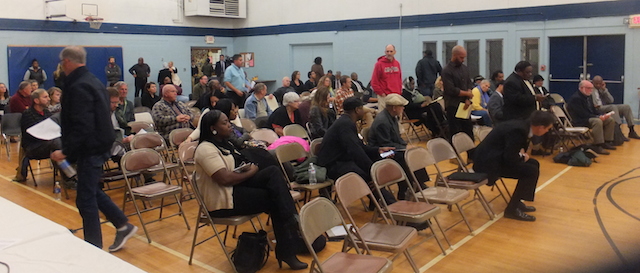 Famicos Fundraiser
Mike White helps Glenville celebration look back, ahead
By R. T. Andrews
EDITOR
Much has changed from the Glenville of yesteryear and even the Glenville of yesterday, if by yesteryear we mean the 1950s and 1960s and by yesterday we mean from 1990 through 2001.
The latter period roughly corresponds with the mayoral administration of Mike White, who now lives about 100 miles south of Cleveland and appears to be enjoying his life as a gentleman farmer, vineyard owner, and consultant to the Mandel Foundation. 
The White years were a boisterous and tumultuous time for Cleveland, a period personified by White's high energy, great intensity, and hands-on leadership style. He took over the school board politically and then statutorily, drove the building of the Gateway district, and completed the expenditure of more than $800 million in public playgrounds when he oversaw the building of a new football stadium.
White was known during his tenure as somewhat of an orator. That description always seemed overblown to us, attributable more to the force of his personality than any genuine eloquence. 
White returned to Cleveland Oct. 23 for a Famicos Foundation fundraiser to benefit the work being done to rebuild a Glenville that physically bears only a faded and deeply scarred resemblance to those other, long-departed Glenvilles. But he brought with him a spirit of those old Glenvilles, and it helped him reach an eloquence that was extraordinary, as he spoke from the heart. He recalled the role that the Glenville neighborhood had played in his life and in the lives of so many others.
That spirit clearly resonated with those at the Museum of Contemporary Art who are laboring with Famicos today to build a new Glenville. While MOCA is in the heart of Glenville, on this night one could feel it being pulled into and made a part of Glenville. 
Several factors contributed to the sense of homecoming that pervaded the evening. For one, while White was the event's honorary chair, the actual chair was White's childhood friend of more than 50 years, India Pierce Lee, whom White called a "tremendous partner" for her community work throughout the city via the Cleveland Foundation. White also called his former neighbor and the city's director of community development, Daryl Rush, "the hardest working man in community development." Rush, who was being honored for his decades of work in community development, was moved nearly to tears as he recounted the joys of his career shift from corporate law to community service.
White, who left politics behind after his three terms in office, was most encouraging of young talent. He said community elders "should put our arms around our young and say, "Go for it! We'll back you up!'" 
Also a highlight of the evening was the recognition of young professionals. A group of 20 have pledged to move [back] into the neighborhood and help to seed its renaissance.
Famicos executive director John Anoliefo noted in his remarks that Rockefeller Park, which runs along Glenville's western edge, is, after New York's Central Park the second largest public municipal green space in the United States.
Famicos was founded by a nun, Sister Henrietta, 45 years ago. It has evolved into a community development corporation and became Glenville's CDC in January 2014 after ward boundaries were redrawn and Kevin Conwell's was redrawn to make him councilman for "the 'Ville".
0 0 1 517 2948 AGS Media LLC 24 6 3459 14.0 Normal 0 false false false EN-US JA X-NONE /* Style Definitions */ table.MsoNormalTable {mso-style-name:"Table Normal"; mso-tstyle-rowband-size:0; mso-tstyle-colband-size:0; mso-style-noshow:yes; mso-style-priority:99; mso-style-parent:""; mso-padding-alt:0in 5.4pt 0in 5.4pt; mso-para-margin:0in; mso-para-margin-bottom:.0001pt; mso-pagination:widow-orphan; font-size:12.0pt; font-family:Cambria; mso-ascii-font-family:Cambria; mso-ascii-theme-font:minor-latin; mso-hansi-font-family:Cambria; mso-hansi-theme-font:minor-latin;}