Civil
Rights
Giant
receives
Louis
Stokes
Community
Visionary
Award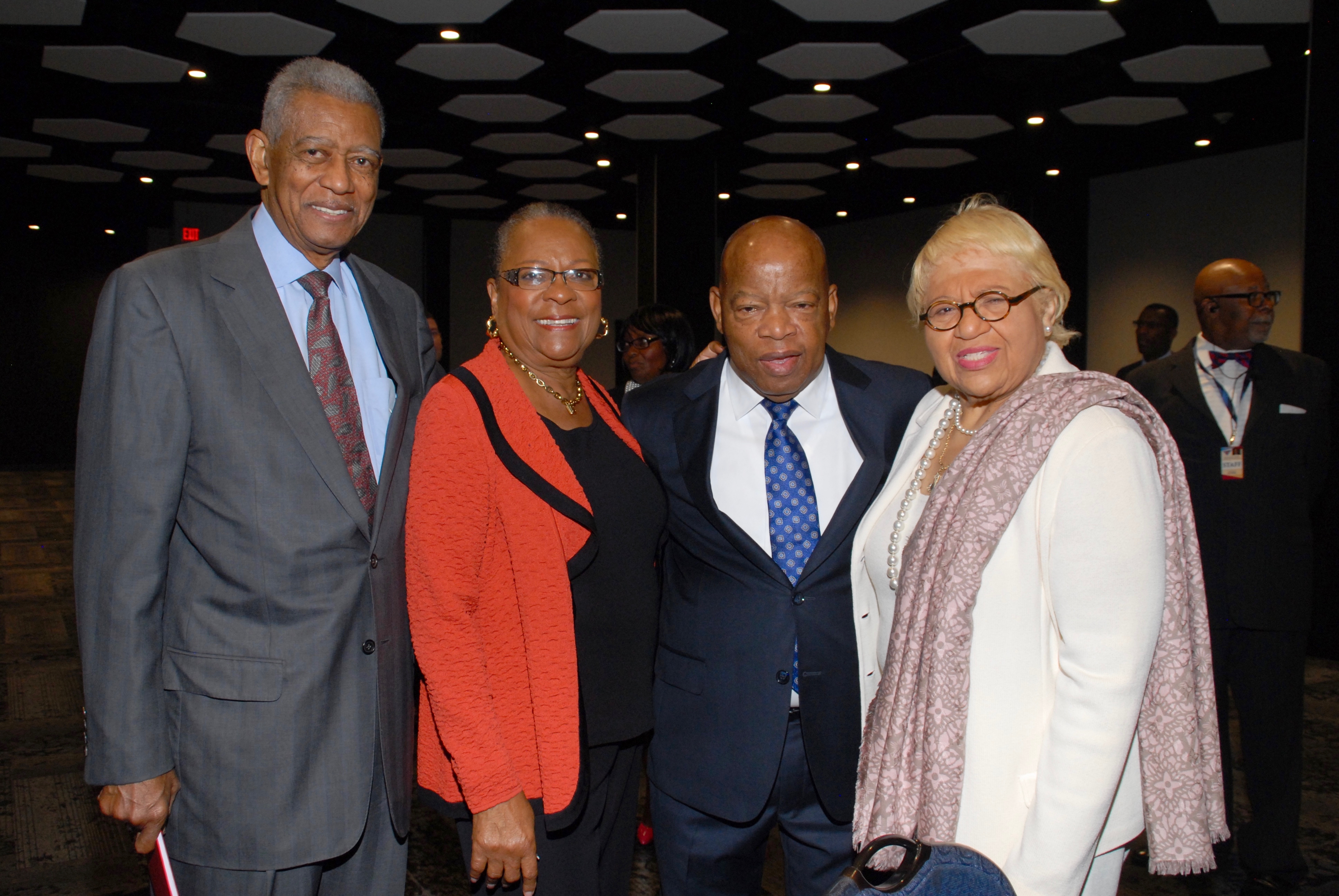 By Ryan Puente
Special to the RDP
A packed ballroom of admirers gathered at the Cleveland Renaissance Hotel downtown last Friday to honor a civil rights giant whose footprint on history cannot be denied.
The Fairfax Renaissance Development Corporation presented U.S. Congressman John Lewis (D-GA) with the 16th annual Louis Stokes Community Visionary Award. Sponsored this year by PNC, the award honors leaders who promote community development and build partnerships with residents and stakeholders. Previous honorees include former U.S. Surgeon General David Satcher, the Rev. Jesse Jackson, CWRU president Barbara R. Snyder, Cleveland Clinic CEO Dr. Toby Cosgrove, PolicyLink founder and president Angela Glover Blackwell, and former Cleveland Foundation president Steven Minter.
Following the invocation delivered by Rev. Dr. Otis Moss, Jr. and a special presentation by Carole Hoover, U.S. Congresswoman Marcia L. Fudge presented the award to Lewis.
"A lot of people say they would risk their life for civil rights but John Lewis has lived it," Fudge told the crowd of politicians, corporate and nonprofit leaders, and students.
Although this marks the first year without Stokes present for the awards celebration, Fudge singled out several family members in attendance, including his children and grandson. Lewis also spoke about Stokes' legacy in his opening remarks.
"To receive this honor named for Louis Stokes is too much. An unbelievable leader, when Lou stood up and spoke in the House, people listened," Lewis said.
As his voiced rang powerfully throughout the ballroom, Lewis urged those in attendance to continue fighting for civil rights and standing out against today's injustices.
"When you see something not right. Not fair. Not just. We have a moral obligation to standup, to say something, and to do something," Lewis said before receiving a standing ovation.
The core message of Lewis' speech also struck a chord with young folks in the crowd.
"Hearing John Lewis, the last remaining member of the Big Six, call on us to speak out and right today's injustices, was a special moment and probably one that I'll never forget," said attorney Michael Bowen, vice president of the Cuyahoga County Young Democrats.
Also on hand to celebrate her longtime colleague, former U.S. Congresswoman Mary Rose Oakar said, "John Lewis is an icon. He is one of the most courageous, warm, and kind persons of principle, and I was honored to serve with him. He's a legend," she said.
When asked about Stokes, Oakar said, "Lou was like a brother to me. We were just two kids from Cleveland."