Hough
Ward
Showdown
FIzzles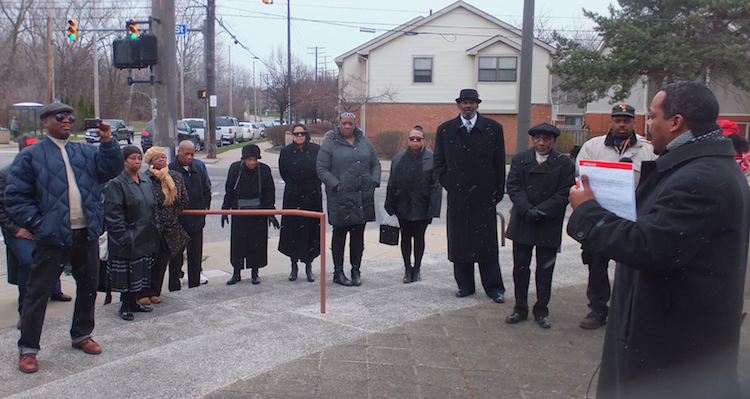 Fizzled showdown muzzles community's voice as development partner
Councilman's retreat leaves best community input process unresolved
By JOHN ETTORRE
Special to the Real Deal Press 
 It had all the elements for a 1940s film noir: a crusading metro columnist, a little-known junior councilman either sticking up for his constituents or trying to hustle his own side deal, and giant influential institutions used to getting their way.
The councilman never really had a chance.  
The showdown over a $100-million apartment & hotel project near Cleveland Clinic — a small part of a sprawling "meds & eds" development initiative jointly pushed by the Clinic, Case Western Reserve University, University Circle and the Cleveland Foundation — was initially blocked by Ward 7 Cleveland Councilman T.J. Dow. He eventually backed down and let the project proceed, but the showdown highlighted some deeper unresolved issues. Among them was the deep mistrust Cleveland's black community has long had for the Clinic as well as its major newspaper, which has long reflexively taken the side of powerful institutions while often giving the back of its hand to the black community.
The manner in which the Plain Dealer and its digital companion, Cleveland.com, framed the story, as a corrupt cash grab waged against benevolent institutions, was a reminder of why the paper has been met with such deep mistrust in many portions of the community for decades, especially in the black community.
PD columnist Mark Naymik is an old school journalist right out of central casting, with a ubiquitous presence. His "Hey Taxpayer" features strike a populist stance, and his bald head and grim, unsmiling visage make compelling TV. He regularly appears as a news commentator on local PBS affiliate WVIZ and was interviewed on CNN the day after the Ohio primary.
Naymik might have had even more reason for feeling confident in his targets lately. After he waged a months-long crusade against Beachwood's Merle Gorden, the highest-paid mayor in Ohio, the FBI launched an investigation last year. The columnist has defended criticisms that he was practicing overkill for relatively petty alleged corruption with the not unreasonable response that his PD colleagues might have revealed the county corruption scandal themselves if they had been more attentive to petty corruption by county officeholders. Still, the nagging feeling remains that he too often focuses on relatively less powerful targets.
In any case, going after councilman T.J. Dow — admittedly not a poster child for the League of Women's voters style of good government — was like shooting small game.
The Dow fusillade began with a March 18th story, in which the columnist characterized Dow's efforts to wangle community concessions for phase two of the Innova project as a thinly veiled holdup. He later said on WCPN that "a lot of neighborhood concerns were jacked up over how the Clinic was going to keep plowing north into Hough," prompting fellow panelist Sam Allard of Scene to say "I do sympathize with residents' efforts to get more information."
The councilman tried to set the record straight two days later with a news conference in front of the Hough obelisk (in a small but telling mistake, Cleveland.com, which evidently sent a young videographer but not a reporter, referred to the venue as a parking lot).
Dow described the meeting he had with CWRU president Barbara Snyder, who needed city approval of a land swap for the project, in which he said he was asked to come alone. "She called me into the meeting, and she had a piece of paper with eight bullet points. She slid it to me and told me she needed me to support this $100-million project. My comment was, 'well, you're gonna have to have community meetings.' And she said 'I don't like that answer. I need your support.' I said, 'well, you're not gonna get my support until we have community meetings.' Her comment was, 'I'll build it somewhere else.' And the meeting was over in five minutes."
He added that in an earlier meeting with representatives of Cleveland Clinic about that same parcel of land, community members were treated with disdain. "What are y'all gonna put there, a car wash?"
At press time, RDP had received no comment from Ms. Snyder's office.
A Better Way Forward
There is an existing mechanism for resolving these kinds of stalemates, one that has gained considerable attention since it was first used in Los Angeles during a controversy over the Staples Center: community benefit agreements. They typically involve buy-in from developers, unions, cities and the local community development corporation nearest the project. Done right, they are far more effective in achieving equitable development than newspapers serving as powerbrokers, seemingly on behalf of the city's most powerful institutions.
Norm Krumholz, legendary Cleveland planning director under three mayors and a nationally known pioneer of equity planning, who now teaches at Cleveland State, recently asked a student to compile these CBA agreements. She found 42 examples. Community benefit agreements are all about "getting as much out of the developer as you can, without screwing up the deal," says Krumholz.
Some who have been watching these dynamics for decades voiced particular frustration about this latest debacle. "We shouldn't have to recreate the play book every time," said longtime former Cleveland councilman Jay Westbrook on Facebook. He pointed to the community inclusion playbook already created by Mayor Jackson's administration.
 There's only one problem with that: Cleveland City Hall, while making some modest noise about these community inclusion plans, and drawing some headlines, evidently doesn't really believe in them. Just ask one Norm Krumholz. "That (CBA) is what I was arguing for with the Opportunity Corridor," the giant roadway now under construction that links the Clinic campus with the interstate system, courtesy of hundreds of millions of public dollars. "And that's what got me thrown off the Planning Commission" by the mayor.
John Ettorre has been writing about Cleveland for more than 25 years. His work has appeared in more than 100 publications, including the New York Times, Christian Science Monitor and National Catholic Reporter.